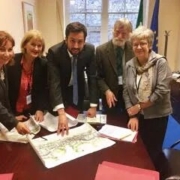 December 2017
Members of Imagine Dundrum attended the exhibition mounted by Masters students in UCD's School of Architecture, Planning and Environmental Policy on housing ideas for Dundrum. In October, at the start of the project, Imagine Dundrum had met with the lecturer in charge of this project, Stephen Mulhall (who grew up in Wyckham Park), and briefed him about Imagine Dundrum's work. Our website was on the official project reading list, and the students had studied the outcomes of our Open Meeting to discover what local residents were thinking. They had also studied the County Development Plan, and they had sub-titled their exhibition, 'An Alternative Local Area Plan'.
There were many varied and fascinating ideas for Dundrum, illustrated by models and drawings, including several imaginative housing schemes (most but not all low-rise, high density) for the old Shopping Centre site. The need for genuinely public space in Dundrum was discussed, and ways of designing housing for older people in particular, to maximise social interaction with other local people. The centrepiece was a model of the whole of Dundrum from the 'Town Centre' shopping centre to the Luas Bridge, on which the different schemes and possibilities could be positioned.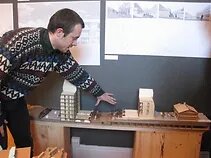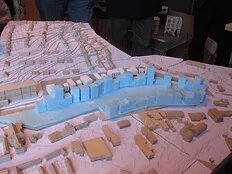 September 2017
Imagine Dundrum has worked closely with the 7 County Councillors for the Dundrum Ward, and in late September two motions referring to Dundrum's redevelopment were tabled at a meeting of the Dundrum Area Committee. It is very positive to have these issues placed on the Council's agenda.
August 2017
Over the summer period, Imagine Dundrum made two submissions to the County Council, covering three of our key campaign aims: one seeking a Master Plan for Dundrum to guide planning proposals; one advocating a civic/community/ cultural centre in the heart of the new development; and one proposing the designation of Dundrum Main Street and crossroads area as an Architectural Conservation Area.
July 2017
Members of Imagine Dundrum, accompanied by our local TD Josepha Madigan and her Constituency Officer, Stephen O'Shea, had a very positive half-hour meeting with MInister for Housing, Eoghan Murphy TD, in Dáil Eireann on Wednesday July 5th. The Minister's PA, Jack O'Sullivan, was also present. The challenges facing Dundrum and the work so far were discussed, with the Minister providing useful help for work going forward.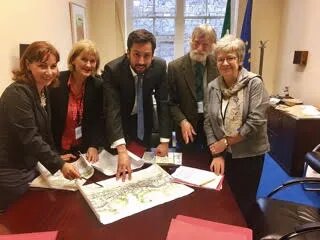 June 2017
Huge crowds at the Imagine Dundrum Open Meeting
​
Over 160 people, including residents' groups, community groups, public representatives, local business owners and managers, and church representatives from all across Dundrum, Ballinteer, Windy Arbour, Goatstown, Taney/ Kilmacud, and Churchtown came together on Thursday evening to make very clear not only their strong attachment to Dundrum, but also their wishes and expectations for the future of Dundrum Village, in the light of its imminent large scale redevelopment.
​
Organised by the Imagine Dundrum community group, the meeting heard a range of presentations about Dundrum, its past, present and hoped-for future. The Imagine Dundrum group outlined its hopes and expectations for the new development, arguing that what is at stake is the fate and future of a historic village which is both a local community hub and heartland for people over a much broader area.
​
According to an Imagine Dundrum spokesperson, 'the developers in Dundrum are not just involved in a residential building development or a greenfield site. They are building in the heart of a village and a community. We want Dundrum **to be a thriving place where people will live, work, and grow up in a vibrant community. We want Dundrum and its Main Street to retain its unique character, and become a truly attractive and welcoming place, where small and medium sized independent businesses are supported, and where intergenerational living is encouraged. We want to see substantial public space in the new development, and a new civic building that will be at the heart of community life.
​
The large gathering of local people gave strong support to these proposals. There was universal agreement that there must be balance between residential, commercial and civic elements in the new development, and that it must be a 'connected' environment, friendly to pedestrians and cyclists and with smooth links to public transport links.
​
They also agreed strongly that that Dundrum must provide for a vibrant, inclusive community, and that the new Dundrum should respect and reflect the heritage of the historic Village as well as showcasing the very best new models of environmentally-sustainable development.
​
The gathering called on the developer, Hammerson, and Dún Laoghaire Rathdown County Council to engage actively with the local community to ensure that plans for future development in Dundrum can aspire to having local community support.
Anyone who missed the meeting can still send their view about the future of Dundrum to imaginedundrum2016@gmail.com
​
Coverage in The Independent: http://www.independent.ie/business/commercial-property/dundrum-locals-proactive-on-shopping-centre-future-35971126.html May 2017
​
Members of Imagine Dundrum attended TD Catherine Martin's public meeting on 'FutureProofing Dundrum' which highlighted energy efficieny at community level. The seven Dundrum Ward Councillors were invited to a second meeting, to update them on progress and discuss ways in which they can support at promote Imagine Dundrum's work at Council level, and help secure the best possible future for our area.
​
Planning is taking place for an open/ public meeting in mid-June
March 2017
Members of Imagine Dundrum attended Hammerson's Irish launch of its sustainability strategy, Becoming Net Positive: A Hammerson Positive Places Objective (copies of strategy booklet available from Imagine Dundrum on request).
​
Imgine Dundrum held a well-attended information meeting for local business owners and other stakeholders including churches, Airfield Estate and An Taisce. Strong support was expressed for our principles and plans.
​
Reviewed the Local Area Plan with view to possible actions.
​
Held a meeting on developing strategy for the coming months.
​
February 2017
Met with Hammerson's Development Manager for Dundrum.
​
Continued to invite feedback on our ideas and plans from local residents
January 2017
Successful in application for start-up grant from County Council's Community Fund.
https://www.imaginedundrum.ie/wp-content/uploads/2017/12/fa79d2_c499843351e74edfb27889ee25c8aad2_mv2.jpg
240
320
ID_Admin2021
https://www.imaginedundrum.ie/wp-content/uploads/2021/01/logo1.png
ID_Admin2021
2017-12-30 10:36:54
2020-10-21 10:46:24
2017 News & Updates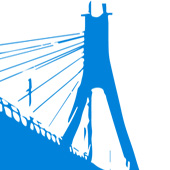 October 2016 – January 2017 ​
Made initial contact with Hammerson; began preparing to meet them.
​
Met and briefed the three local TDs for Dublin Rathdown.
​
Met County Council officials involved in an EU 'placemaking' project (the Urbacht Project) relevant to Imagine Dundrum's work.
June – September 2016
The UK-based developer Hammerson, in association with Allianz insurance, completed the purchase of the Dundrum Village development site and the existing 'Town Centre'.
Some Imagine Dundrum architectural sketches are revised, in response to Hammerson's reported comments on possible residential element for Dundrum Village; expert advice on our plans obtained from a commercial property specialist.
​
Investigated possibilities for a civic/ community/ cultural space or centre for Dundrum (see the County Development Plan); visits were made to local community centres; a document drafted: Vision Statement for a Civic, Community and Cultural Space in Dundrum.
​
Imagine Dundrum was accepted as a member of the County's Public Participation Network so is represented at its plenary meetings and receives information regularly.
​
April-May 2016
​
Imagine Dundrum documentation produced: a one-page explanatory leaflet, a three-page Vision Statement, a set of illustrative architectural drawings and a powerpoint presentation.
​
Met the seven Dundrum area County Councillors, who assured us of their firm support (We have updated them on developments since then).
​
Met with County Council planning officials, to introduce Imagine Dundrum and share information and ideas.
​
Made contact with a similar initiative, Re-Imagining Phibsborough.
​
Information meeting held with local Residents' Associations – 19 groups attended and 11 others expressed interest.
January – April 2016
​
Initial consideration in meetings of Dundrum past, present and future, and the relevant planning contexts and processes.
​
Studied the DLR County Development Plan 2016-2022, noting how it supports Imagine Dundrum's thinking.
​
Generated ideas for action and outreach.
January 2016
​
Group formed in response to imminent redevelopment of Dundrum Village ('Phase 2') and the County Council's proposed Local Area Plan.
​
https://www.imaginedundrum.ie/wp-content/uploads/2021/01/blog-thumbnail.jpg
170
170
ID_Admin2021
https://www.imaginedundrum.ie/wp-content/uploads/2021/01/logo1.png
ID_Admin2021
2016-12-30 10:33:00
2021-01-19 11:28:02
2016 News & Updates